Internationally renowned pastry chef and award-winning author Nick Malgieri recently visited the Philippines for the fourth time to be part of the World Food Expo (WOFEX) 2018 in early August. With his adorable smile — so warm and inviting — and his plethora of chocolate-y knowledge, he gave members of the media and WOFEX attendees a taste of chocolate heaven.
In an exclusive preview of Chef Nick's WOFEX presentation called "A Date with Chocolate", the seasoned chef and educator explained what makes good chocolate really good.
"… Chocolates that are normally meant to be sweet like milk chocolate still need to have the sugar handled judiciously and not overdo it. Basically, the best chocolates allow the intrinsic flavor of the chocolate to come through and they don't mask it with anything," Chef Nick pointed out.
With 12 books under his name, the multi-awarded author also warned about the disadvantages of over-complicating something so pure and straightforward as chocolate.
"Nowadays, people are making these unheated chocolates or raw chocolates, they're putting lavender flowers and peppercorns – you know, everything you can shake a stick at — and use it to flavor the chocolate… But what are you tasting? If I want a big hint of cinnamon, I'll eat a cinnamon bun, not a chocolate bar, right? I think that's a little bit confused," Malgieri said.
He adds, "Anything that tries to be everything usually winds up nothing in particular."
Our very own Chef Jill Sandique — Chef Nick's former student and now a dear colleague — shared her knowledge of chocolate and cacao. Having grown up in Davao near cacao plantations, she says tsokolate flows in her veins.
"Good chocolate must come from a good source, so it all begins with really good raw materials. If your cacao beans are no good, it won't turn out great no matter how much you process it," Chef Jill explained.
"We have really good varieties of cacao here in the Philippines, so we are able to produce good export quality chocolates… But we still have a long way to go when you think about the chocolates [that are available internationally]," she said, pointing out that the country's award-winning chocolate creations are continuing to innovate in order to elevate their products.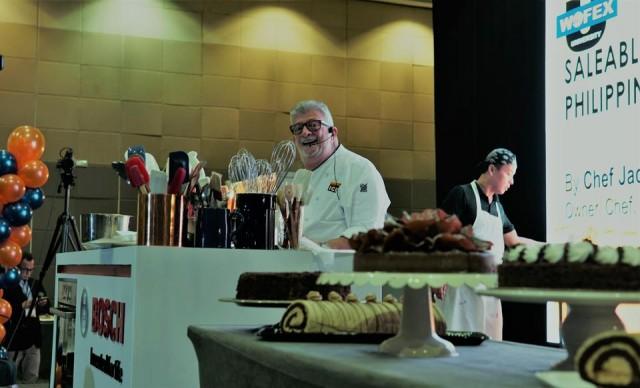 Amazed by the Philippines' bounty of fresh local produce, Chef Nick also said he wishes he could take home our humble calamansi in the hopes of creating something with it. When asked about his experience in the country, he said, "I'm very happy to be back in Manila where I have so many old and new friends… It has been fun to come up with new things every year."