Tibballs, the chocalatier and pastry chef with her very own chocolate school in Melbourne,  hasn't earned her nickname for nothing. A quick scan of her  -her Instagram page or  appearances on TV shows like MasterChef Australia quickly reveals insane things she can do with the stuff.
For beginners, however, cooking with chocolate can be daunting. It just seems so … tricky. And nerve-wracking!
"There's no need to be scared of working with chocolate, just embrace it!' she told 10 daily. You'll be a regular Willy Wonka if you follow her tips and tricks.
First up you've got to make sure you're buying good quality chocolate. Look for a block made with cocoa butter, not vegetable oil or fat — it's a better eating and baking experience, according to Tibballs.
When tasting your choc, don't bite it — instead, pop the piece on your tongue then push it up against the roof of your mouth. It might sound funny but it's how the pros like Tibballs do it so who are we to argue?
If you're being ~health conscious~ Tibballs recommends picking out a block with a higher percentage of cocoa.
"The more cocoa, the better for you as it contains more antioxidants which help chase free radicals," she explained.
Most importantly, once you've bought your chocolate home, keep it in the pantry in an opaque container or packaging that's sealed tight as chocolate likes to absorb water. It's also good at absorbing aromas so don't store it near garlic.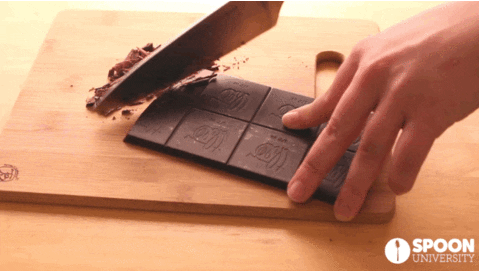 #Melting and tempering
When melting chocolate, Tibball's top tip is to steer clear of water or steam by avoiding the double boiler technique altogether. Instead, she's all for doing it in the microwave — hurrah!
Chuck your choc buttons or roughly chopped block into a bowl — plastic not glass — and start nuking it in 30-sec sec increments, stirring in between.
You can even get out your hairdryer to melt any stubborn bits.
#Little effort, big wow
If your general cooking approach is minimum effort, maximum wow-factor, then Tibballs has some choc recipes that do just that.
She loves a liquid-center chocolate pudding — aka a chocolate fondant. You can mix it all by hand so no need for a snazzy mixing machine.
"Or go with a brownie — the only thing to avoid is overcooking. It must be firm on the outside but soft to touch in middle,' she said.
Chocolate mousse might seem out of a beginner's league but Tibball's assures us it's not. Just make sure your cream is nice and cold and your chocolate is really hot — see her tips earlier on.
When combining the two be sure to add a dollop of the cream to the chocolate first, stir it through then add the chocolate mixture into the cream. This prevents it from curdling.
Mousse is particularly great as a summer dessert and can be made in glasses for a posh touch. Tibball's hack? Layering in store-bought bikkies. Shh, we won't tell.
Not to be confused with mousse is ganache, used as a glaze, sauce or icing.
It's also an emulsion of chocolate and liquid — typically cream, champagne or milk — but in this instance, the liquid is boiled and the chocolate is left cold.
For a super quick garnish, Tibballs loves grabbing a nice thick block of chocolate, popping it on an overturned bowl and zapping it in the microwave quickly to warm it slightly then grabbing a veggie peeler and peeling off nice big curls. Perfect for topping cakes, mousses or even just a bowl of plain ice cream.
If you're feeling a little more fancy in the garnish department try this. Scrunch up a sheet of baking paper then roughly flatten it out on the bench with your hands. Pour or drizzle over tempered chocolate then pop it in the fridge to set for about five minutes. Once set, break it into pieces and you're ready to go.
Baking paper will give the choc pieces a matte finish while cellophane will give it more of a gloss.