If you like red velvet, you're going to LOVE these light and fluffy red velvet cupcakes! Topped with luscious cream cheese frosting, they're so delicious! You Can also try this recipe at home on this happy moment of life.
So easy
Outrageously delicious
Decadent and sweet
Slightly chocolatey
VERY red velvety
And perfect for Valentine's day, Christmas, and birthday celebrations!
Red velvet is one of the most requested cupcake flavors in the world! So today I'm excited to share my foolproof recipe with you! Because I want your cupcakes to come out perfect, I've included a ton of helpful baking information below. I know it probably looks like an overwhelming amount of reading (I do tend to dork out about baking) but I promise it'll only take a few minutes. And the lessons you learn will make all of the difference in your baking adventure.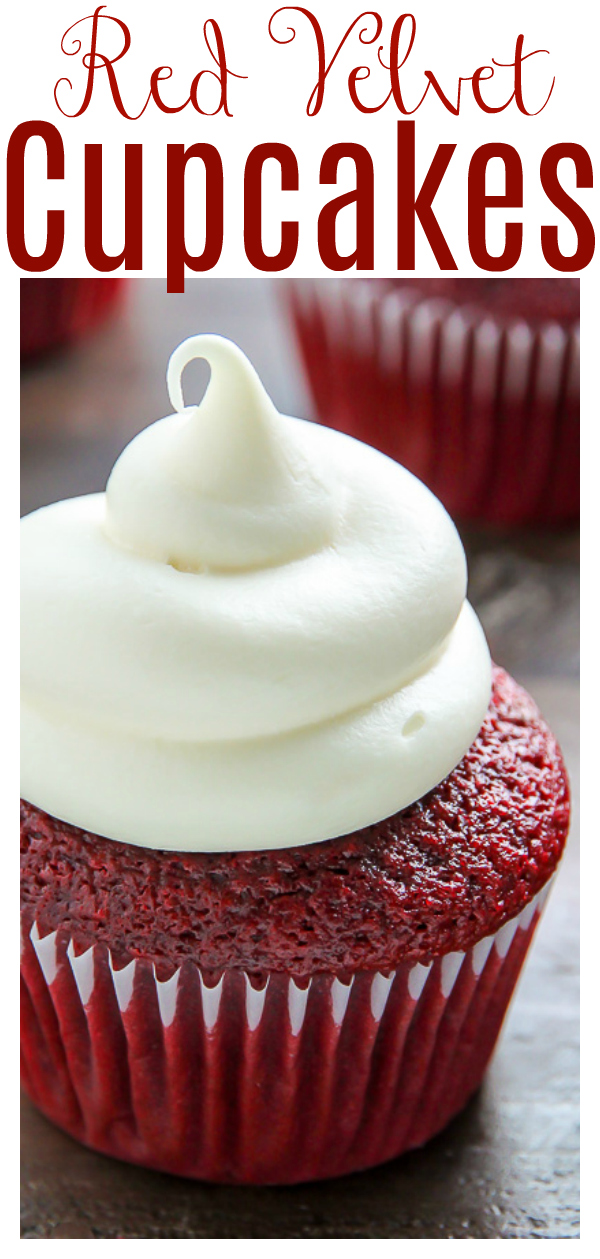 If you're new to baking, I definitely suggest reading everything over before you begin. And if you have additional question, drop me a line in the comments and I'll get back to you asap!
What does a red velvet cupcake taste like?!
This is a question I get all the time, but I get it. Because up until a few years ago, it's a question I had, too. And it's hard to imagine what something so red will taste like!
Here are the most frequent questions I get: Are they chocolate cupcakes with red food coloring? Vanilla cupcakes with a little cocoa powder and red food coloring? Do they just taste like food coloring? No, no, and – thankfully – no!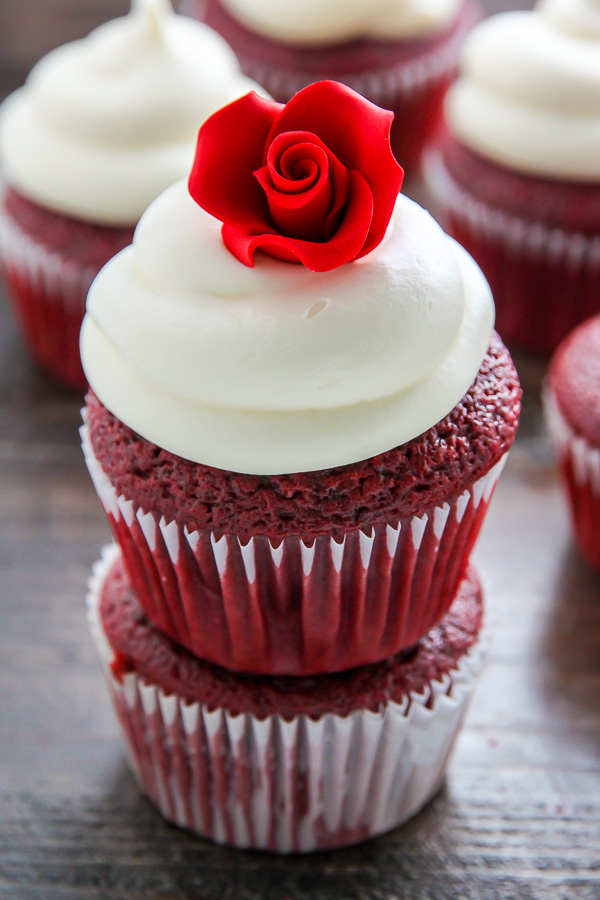 When made correctly, a red velvet cupcake should be extremely moist with a tender and fluffy crumb. In terms of flavor, the cupcakes are super rich, buttery, and sweet, with a slight tanginess from the buttermilk. The chocolate flavor is very subtle, and compliments the sugar and buttermilk used in the recipe. If I had to choose a classic cupcake to compare red velvet to, it would be yellow cupcakes, because they share a rich, buttery flavor. But really, red velvet is in a class of its own. After one bite, you'll know – er, taste – what I mean.
Tips and Tricks for Recipe Success:
Ingredients
For the dry ingredients you'll need flour, cocoa powder, cornstarch, baking powder, baking soda, and salt. We use the combination of flour and cornstarch instead of cake flour. This combination ensures a moist and delicate crumb.
For the wet ingredients you'll need butter, oil, apple cider vinegar, eggs, sour cream, and buttermilk!
Buttermilk is absolutely essential when it comes to baking red velvet cupcakes. It adds a trademark tangy flavor to the cupcakes. It also makes them moist and fluffy. So you really don't want to skip it! In addition to the previously mentioned buttermilk benefits, this powerhouse ingredient also helps to activate the baking soda. As does the splash of apple cider vinegar called for in the recipe! Which might sound like a bizarre addition, but is actually a signature ingredient in red velvet recipes.
You'll also need red food coloring! This ingredient gives our delicious cupcakes their trademark red color. You can increase the amount of food coloring for a more dramatic red color or reduce the amount for a more subtle hue. If you do not use food coloring, you may omit it from the recipe without making any additional changes, but the cupcakes will have a rather odd color and definitely won't be visually identifiable as red velvet. There are some natural food colorings that have come on the market recently, so those could be an option to explore, too. There are also gel food colorings on the market, which can be used. But you may need to adjust the amount of color added.
Assembly
Assembling the batter for these red velvet cupcakes is easy! But there are a few steps! First, you'll need to melt a 1/2 cup of butter in a large bowl. Then you'll add in the oil and vanilla. Next in is the sugar, and the the eggs. After all of the wet ingredients have been incorporated you'll add in the all-purpose flour and other dry ingredients.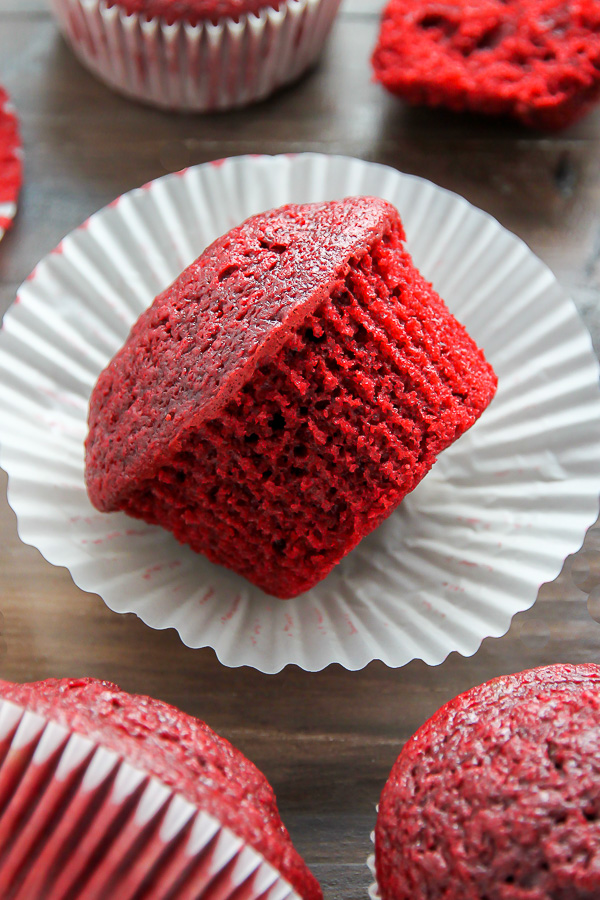 Baking
Before you bake these cupcakes, you'll need to preheat your oven to 350 degrees. You'll also need to line a cupcake pan with liners. I suggest spraying the pan lightly with non-stick baking spray to ensure there's no sticking, but this is up to you!
You'll divide the batter among the prepared molds, filling each line 3/4 of the way full. You'll have enough batter for about 18 cupcakes.
The cupcakes need to bake for about 16 minutes, or until a toothpick inserted in the center comes out clean. Don't open your oven before the bake time is up, or the cupcakes may sink in the middle.
If you'd like to make mini cupcakes using this recipe, you'll need to adjust the baking time. I find minis bake in about 10 minutes, but this will vary depending on the pan you use. You should get about 2 dozen mini cupcakes, and have plenty of frosting for all of them.
If you'd like to make a red velvet layer cake, I suggest using one of these recipes: White Chocolate Red Velvet Truffle Cake or Classic Red Velvet Cake with Cream Cheese Frosting. And if you really want to try a fun red velvet recipe, give these Red Velvet Donuts a try!